People, it happened…our first epic event in our stylish, brand spankin' new digs: Climathon 2019! An enormous, huge, gargantuan thank you to all of our generous partners, and of course, the amazing volunteers and participants who chose to spend their weekend with us for such an important cause.
So, what is Climathon, you ask? Only a worldwide movement for climate action…a CLIMAte-HackaTHON, if you will (a hackathon is basically a major brainstorming session). Climathon was created with the explicit goal of producing climate action solutions that are specific to the city hosting it, in a short period of time (24 hours), in teams of action- and purpose-driven people.
Hey, cool! Seems like something we'd do…
Which of course, it was. So, each city has its own local organizers. In Basel, this was the Department for Environment and Energy Canton of Basel-City, IWB and Impact Hub Basel.
The three Basel-specific challenges addressed were:
#UrbanCycling
#RenewableEnergy
#SaveFood
So, how does a Climathon work? On day one, Friday the 25 of October, participants arrived, registered, and settled in for the long haul (many were planning to stay all night, after all!). After the welcome speech but before the actual Hack-a-thon began at 16:00, all of the ideas were presented. Twelve individuals came with something specific to pitch, and the rest of us chose which project team we wanted to join.
For instance, one idea as part of the food challenge, called Chez Ma, took the idea of preventing food waste at source (the farm) and at home, delivery to people in need (perhaps because they just had major surgery or are caring for a newborn baby), and food saving (by traditional canning methods) to create a solution that had many environmental benefits.
Once the teams formed, they each came up with a name and got to hacking! Teams ranged in size from about three to seven people, and in age from about 11 to 60+…it was a fantastic, diverse mix! Read more on the potential for multigenerational engagement in Caroline's blog.
The whole first night and up until the 24th hour, the teams created, tweaked, reconfigured and solidified their pitches. In between, there was delicious food to refuel, evening yoga, a morning walk, workshops, and coffee. Lots and lots of coffee. And all the while, new relationships, partnerships and friendships formed.
At 16:00 on Saturday, it was pencils down (all you Millennials are like, "What's a pencil?"). The hack was over, and it was time to pitch to the jury. Each team (eight total, as ideas had merged or been abandoned when teams formed Friday) had ten minutes to 'sell' their idea, and five minutes for a Q&A.
Then at 17.30 it was back to the event space to hear the 2-minute versions from each team, and announce the winners.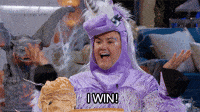 And the winners are…
ReADI: Renewable Energy Assistance Development Initiative (#RenewableEnergy)
With the new Basel-City energy law, all end-of-life fossil-fuel heating systems must be replaced with decentralised, smaller-scale renewable district heating systems. ReADI's idea tackles renewable energy from a 'bottom up' approach, providing: easy entry for owners/renters to renewables; a framework for simpler replacement of heating systems; centralized information for the general public.
Green New Bike Deal (#UrbanCycling)
Basel is a bike-friendly city, but nevertheless, the challenge remains to motivate more people to choose cycling over autos. The Green New Bike Deal team wants to work with the City to optimize bike travel routes, with safety and efficiency in mind. They also propose a reward system for long-term cyclists, be it with theatre tickets, discounts or similar, and help families to choose cycling by providing child-trailers.
Souper Bowl (#SaveFood)
Souper Bowl, who also scooped the 'audience favorite' award (pun very much intended), wants to work with the already-established social enterprise "Soup&Chill". They would prevent food waste by collecting still edible veggies and bringing them to Soup and Chill, where they would create delicious, nutritious soups, and then deliver to people via bicycle. The proceeds go back to support Soup and Chill.
Now, besides the obvious glory of a win—sadly, there was no budget for tiaras—it was announced that these three teams will be following up with Basel-stadt officials—as in, an actual meeting! Mattias Nabholz, Director of Environment and Energy spoke at the end of the awards, and is excited to discuss in these meetings how the city can support and—in the best case—implement these solutions.
On top of that, all winners worldwide have the opportunity to submit their solutions to the Climathon Global Awards in Paris. These awards expose Climathon's most promising solutions to the world, and prizes include not only a wealth of exposure but also support to scale the solution's impact.
So, let's keep our fingers crossed, friends, that these impactful ideas come to fruition. And we'll see you next year!
Carrie Aikman